Company Profile

Factory Show

Company Structure

Our Advantages
Company Profile
With 50 years of experience in the Superabrasive industry, E-Grind Abrasives is a very reliable partner in supplying a full range of Diamond and CBN grinding wheels for many industries: Woodworking, Die&Tooling, Bearing, Paper-Making, Automobile, Aerospace, Semi-Conductor...
Our goal is to have 100% customer satisfaction. To gain this, E-Grind always provides customers with the most competitive price, consistent quality, efficient service, and the most effective tech support.
Our technology and bond systems are from the US and Europe. The producing machines are mainly imported from the US, Europe, Japan, and Taiwan; especially we have 6 CNC machines for the machining and grinding of Diamond CBN wheels, and the testing machines are also from Japan and Europe. All of these make our products to be premium grade with high tolerance and to meet US and Europe standards and levels.
Our capacity is 30,000pcs of Diamond CBN wheels per month; Meanwhile, we have more than 5000 sets of mold available; more than 8000 wheel specs; thousands of standard wheels in stock; customs-made wheels are always available. All these make us able to supply wheels in a very fast delivery time: 5 days for very urgent items and 14 days for standard items.
With more than 40 bond systems, 7 types of wheel body material, and more than 10000 wheel specs available, Our experienced engineers are always ready to provide customers the application assistance and Tech support. For all inquiries, feedback, or any other requirements, we always respond within 24 hours. We could provide the improved products on customer's feedback quickly.
Company Structure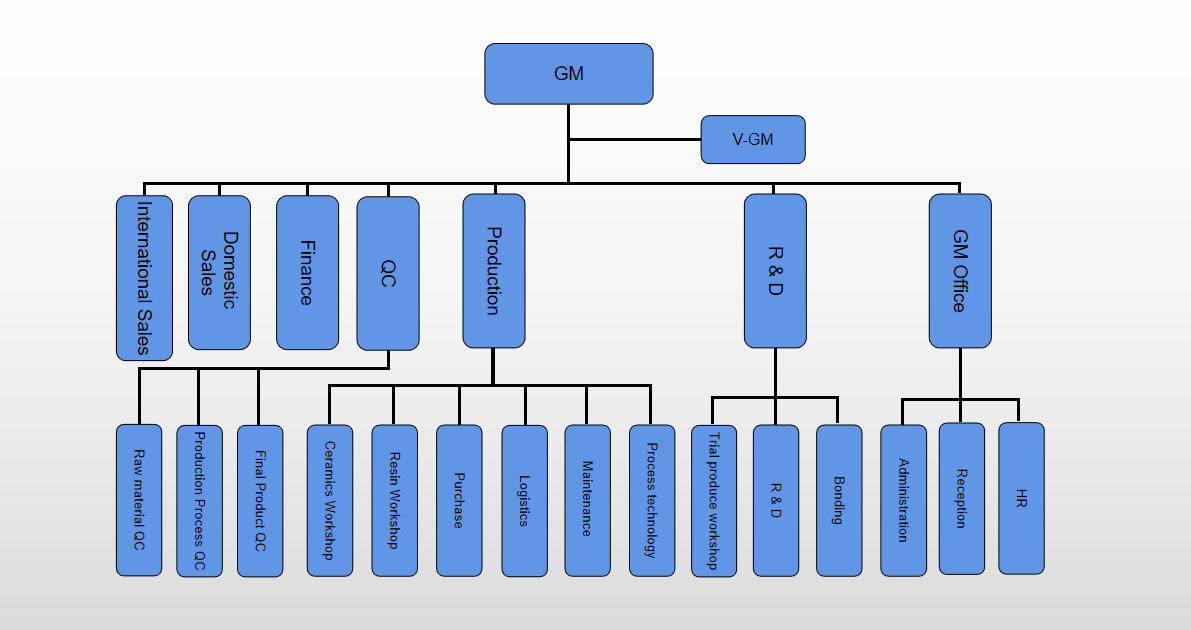 Our Advantages
40 bond systems

Our wheels bond systems originate from the US and Europe. They have been developed and improved in the past 50 years to meet customers' satisfaction. The quality of our wheels meets US and Europe standards.

+10,000 molds available

There are more than 10,000 sets of molds for various wheel specs in our plant. Plus we can make new molds immediately when customers have new spec to make.





7 types of wheel body material

Alumina

Steel

Powdered Alumina

Copper

Bakelite

Ceramic

Compound of Alumina and Bakelite

+10,000 wheel specs

We supply all shapes of wheels with various dimensions. At the moment our wheels specs available are more than 10,000.

30,000pcs / month capacity

Our capacity has been developed in the past 10 years. Nowadays we supply 30,000pcs of wheels per month.

5-14 days delivery time

For standard wheels, we usually complete them within 2 weeks after receipt formal order.


For custom-made wheels, we need extra days for making the mold first.

We also have a priority production line for urgent orders and could complete the wheel within 5 days.

Thousands wheels in stock for standard specs

We have standard wheels with different standard specs in inventory. Thus we could make the immediate shipment to customers.

Discount price for +30pcs

We provide a discount on the order with a large quantity of the same spec. More discounts more quantity.

Custom made wheel

We can supply the custom-made wheel as per the spec or drawing from customers.

Custom Package

Besides several types of the standard package, we provide the special package on customer requirements.

24 hours respond to feedback and emails

We respond the inquiry, quality feedback, or any other requirements from customers on the same day.

Tech & Application Assistance

We provide customers with assistance on application and other technique questions.